The Work Online and Travel the World Course – Bucketlist Bombshells Review
I currently have the freedom to work from anywhere in the world (with wifi!), whether I'm wandering cobblestone streets in Europe or confined to my house due to a global pandemic. But I wouldn't have this freedom if it wasn't for the Bucketlist Bombshells.
I first discovered Cassie and Shay, founders of The Bucketlist Bombshells (a life-transforming online education company), back in 2017. I signed up for their Design Skills (which I've reviewed on this blog in the past) and Tech Skills courses, followed by their main course, the Work Online and Travel the World Course.
Affectionately dubbed the WTC, this course does what it says on the tin – it helps you build an online business and then take that business anywhere you want to in the world! Many "work from home" opportunities are just that – locked to your location by product inventory or in-person clients.
Now, more than ever, it's important to build a business with a little more freedom than that. If suppliers dry up and you can't reach your clients in person, will your business still thrive? Cassie and Shay show you exactly how to build a business that is truly online so you can grow as the world changes.
This isn't some instant business scheme. Right in the introductory module of the WTC, Cassie and Shay recommend that you set aside at least 3 hours a week to start building your business with a strong foundation.
Each of the modules contains video lessons and worksheets, as well as links to additional resources.
Module 1 – Defining Your Online Skills
This module mirrors the Bucketlist Bombshells' free workshop (which you can check out here!), with helping you blend soft skills and hard skills to figure out which type of business is right for you. I am a huge fan of personality typology, so I love that they use Myers-Briggs to help students identify their soft skills.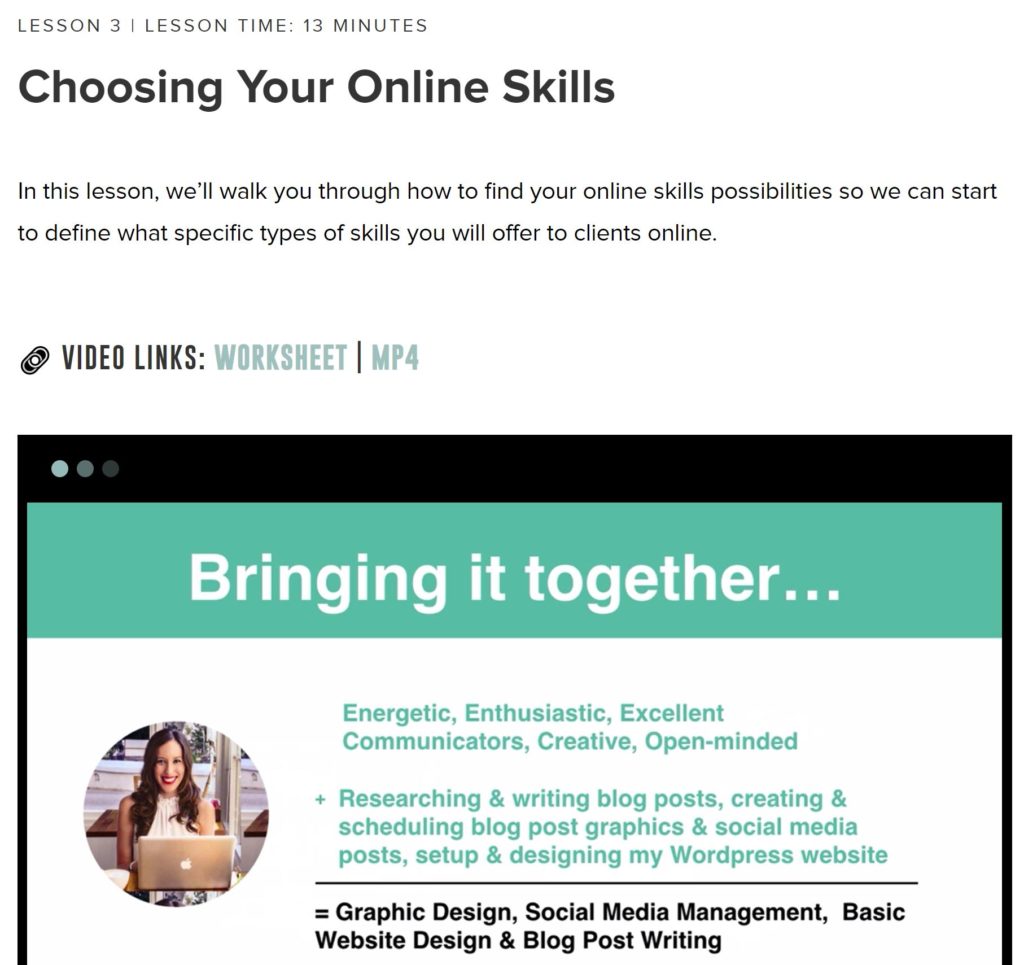 Module 2 – Rock the Freelancing World
Take the first steps to build your skills and grow your experience with online freelancing sites. While I didn't use this strategy, it's helpful if you're feeling a bit apprehensive about getting paid for your services. It also offers tips you can use outside of these freelancing sites.
Module 3 – Build & Launch Your Online Business
This module moves away from working for rates others determine to setting your own rates – with lots of help and advice! From researching competitors' rates and finding out the cost of living in destinations both local and global, to using the calculator they provide to analyze your lifestyle and needs so you can know your rates will provide enough to live on (and not be surprised by business expenses and taxes along the way). There are also videos to help with two key aspects of signing clients – one lesson on deliverables and client expectations, and another on landing clients via video calls.
Module 4 – Find, Network & Land Clients
This is one of the meatiest modules in the entire course. Not only do you learn how to to set up your packages, Cassie and Shay walk you through everything you need to include on your website, and then offer an hour-long tutorial to get everything set up on Squarespace! On top of that, they show you how to start finding clients outside of freelancer sites, sharing the insider tips they used to build their own businesses.
Module 5 – Running & Rockin' Your Online Biz
Setting up smooth processes is absolutely key to wowing your clients and growing your business (without going insane trying to remember everything)! Cassie and Shay walk you through SIX of their favorite programs to keep things organized, as well as outlining a workflow and a finance sheet (complete with tutorial) to track everything.
To be honest, I already owned or subscribed to different software than the ones taught within this module, so it wasn't as useful for me. Also, many of these programs have their own video tutorials, which are keep more up-to-date. The biggest benefits of this module are that it helps you to figure out the types of programs your business needs (a way to send proposals, a way to schedule calls, etc.) and gives you tips on how to use these programs for your specific business (what features are important, what can you ignore for now).
Also, while the finance sheet will help you get a great overview of your business and its money, you're going to want to invest in some other sort of accounting software soon after you get a client or two under your belt (or before).
Module 6 – Run Your Biz & Jet Set Around the World
Finally we get to the Travel the World part of the WTC! This is where the course differs radically from many other "start an online business" courses and programs. This module is full of practical advice like choosing where to go, how to book accommodations in your new place, how long to stay in one area, and more! They also keep you on track with your business during this transition – remember, you're not on vacation here!
One of the main points of this module is moving somewhere with a low cost of living, so that you don't have to worry about bringing in as much money while your business is still growing. Also, it's up to you how soon you want to jump into the travel part of this after you start your business.
My situation was different. I have little desire to live in many of the locations they suggest (which are often in hot climates – I prefer 60F/15C weather!) and wanted to explore Europe more instead. While some countries in Europe are lower cost than others (generally warmer spots too), it still would be a big investment, as I was also planning to keep a shared apartment back in the US so I could spend some months of the year near my family.
Instead, I found a different option to make my specific travel dreams come true – house sitting! I have a whole post about it here. I'm watching people's homes and pets (usually cats) while they travel. My sits can last anywhere from 4 days to 2 months, and I've stayed in England, Scotland, Ireland, Germany, and the US this way.
Bonuses
The Work Online and Travel the World Course includes a number of bonuses (more if you pay in full), but the best ones are included for all students – the student Facebook group and monthly live masterminds!
In my opinion, these outweigh the value of the course itself. Wherever you are in your business, it's amazing getting personalized advice any time you have an issue! You can post within the group to get tips from other students, alumni, and community managers. This is great when you have more simple questions or those that could use a quick response. But the mastermind sessions are amazing when you have a more complicated or in-depth question about key parts of your business and life as an entrepreneur.
There are also literally dozens of past sessions full of helpful advice! And if you're not able to make the live masterminds (which are generally at 5pm Pacific/8pm Eastern – so 1am or later when I'm in Europe), you can submit questions ahead of time and watch the replays.
Conclusion
I highly recommend signing up for the Work Online and Travel the World Course from the Bucketlist Bombshells if you want to start an online business! This course will take your from idea to packing your bags! However, there are some people who won't benefit from this course as much as others.
If your business is already established. This course is aimed at beginners, and while you may greatly benefit from the monthly masterminds, the bulk of the course is about setting things up in your business.
If you're looking to market products, courses, or coaching services. The focus is on setting up a business model for virtual assistant, design, web design, social media management, and similar services.
If your focus is on being an influencer or blogger. If you want to make money with paid sponsorships or ads, this course won't help you with that.
But this course is for you if you want to use the skills you already have to start getting paid by clients, if you're willing to put in the work, and if you want a framework to follow to build a solid business!
If you have any questions about the WTC, leave me a comment and I'll answer!
Disclaimer: I received compensation for this review, however, my opinions are my own and I had already purchased and benefited from this course years prior.