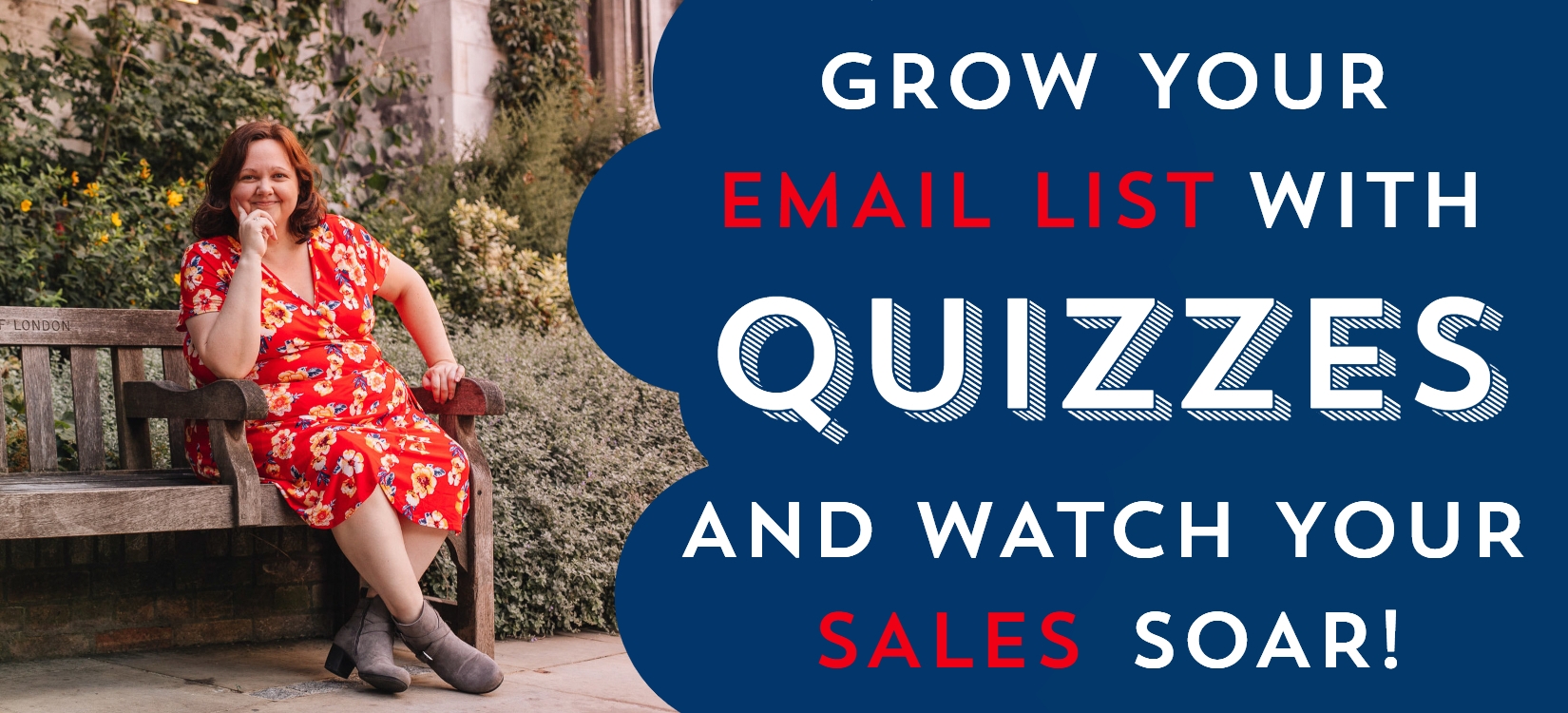 What if people couldn't wait to join your email list?
There's a simple way to get visitors to your site excited and ready to engage with your content – invite them to take a quiz!
Are you a morning or a night person? What's your favorite animal? Do you prefer books or movies?
When you ask someone a question, people feel compelled to respond. Quizzes harness that impulse and let you effortlessly capture emails from visitors who have already engaged with you (during the quiz itself!) for several minutes. They're invested.
And there's a reason many quizzes have a question as the title – people want to know the answer to "What Obscure Animal Are You?" or whatever quiz you dream up.
However, unless you're trying to weed out shapeshifters, an animal question like that isn't going to help your business. You need a quiz that:
Your ideal clients relate to
Helps you learn something new about your audience members
Segments your audience in practical ways so you can help them
Lets you be specific in the future so your audience will think you've read their minds!
Helps you narrow down product and service ideas (do your clients need a newbie course or something more advanced?)
Is actually fun and easy to take
All of the above!
Overwhelmed? Don't be! I live for this sort of stuff. I've been taking and analyzing quizzes since I first got online (yes, I'm older than the internet, at least the world wide web version). I also have studied personality types (including Myers-Briggs and the Enneagram) for nearly 2 decades, born from my love of creating characters for my novels. Add in some business savvy, and plenty of listening to other business owners and their ideal clients, and I'm ideally suited to build an irresistible quiz for your business!
Ready to get started? Click the button below, or keep scrolling for more details!
I decided to create a quiz months ago, signed up for the software, and only then realised how much strategy and backend work is involved. The project stalled. I procrastinated. When I found out about Katie's service I hired her right away – and 2 weeks later, my quiz was ready to go live! It's fun, it relates to my brand, and my email list is growing!! Katie knows what she's doing and is my go to person for Pinterest and quizzes! Highly recommended.
Quiz Creation Packages
You have options! I can build your quiz while you focus on the rest of the funnel, or I can handle everything from email and website (depending on platform) integration to social media graphics to freebie creation! And once your quiz funnel is ready, I can help you get traffic to it via Pinterest.
Basic Quiz Creation
---
Business Overview and Quiz Brainstorming Session
Writing 2-4 Quiz Results with Short Descriptions
Creating 10 Questions with Answers (pick and choose your favorites)
Client Review and Question/Answer Editing as needed
Add Your Brand Colors and Fonts (if available) to Quiz
Support for Email and Website Integrations
Minor Quiz Edits (during first month quiz is live)
Basic Quiz Creation Package
$2000
Advanced Quiz Creation
---
EVERYTHING Included in the Basic Quiz Creation Package
Up to 6 Quiz Results with Longer Descriptions (150-200 words, suitable for landing pages)
Creating 15 Questions with Answers (pick and choose your favorites)
Branching Logic for Quiz Questions if desired
Customize Quiz Look and Feel for Seamless Embedding on Your Website
(Optional) Integration Setup with Email Service and Website Access
Stock Photo Sourcing for Unique Quiz Images
Custom Graphics for All Quiz Results, in Portrait (Instagram Stories, Pinterest), Square (Instagram), and Landscape (Facebook, Twitter) Formats
Advanced Quiz Creation Package
$3000
Add-Ons
---
(Can be added to any package)
More than 4-6 Quiz Results
Longer Length Result Descriptions
More than 10-15 Questions Options for Longer Quizzes and/or More Client Choice
Ongoing Quiz Support
Monthly Reports and Strategy Suggestions for Quiz Funnel
Major Quiz Edits and Minor Edits after first month
Freebie Content for Each Result
Custom Freebie Design for Each Result (to match custom social media graphics)
Freebie, Tripwire, and Post-Quiz Funnel Brainstorming Session
Pinterest Management and/or Pinterest Ad Management to Send Traffic to Your New Quiz
Custom Pricing for Add-Ons
Working with Katie was a fantastic experience – she definitely exceeded my expectations. Her attention to detail, thoroughness, and responsiveness truly set her apart. I felt I could trust her completely from the very beginning. Katie was always quick to respond and patiently answered all my questions, despite my being a complete newbie to the world of quizzes. Her depth of research and the options she presented were impressive. It was clear that she took the time to understand my brand and ideal client, resulting in a quiz that resonated deeply with my people and was also super fun!
Having this quiz  helped me uplevel my business and brought in tons of new leads. And the best part? It's evergreen! I love having this resource as a way to have continuous leads streaming in to my business.
I'm especially grateful I hired Katie to handle this project instead of trying to do it myself. The intricacies and moving pieces involved were more than I had initially anticipated, and I believe taking on such a task alone would have been overwhelming and the quiz itself wouldn't have been half as good. Also as a solo business owner, I already have enough to do. Thanks to Katie, I could focus on tasks that are actually in my zone of genius, and I ended up with an incredible quiz I couldn't be happier with.
Katie is an absolute pro, so if you're thinking of working with her… RUN, don't walk!
So what does working with me look like?
Once you reach out expressing your interest in us possibly working together (I love getting those emails!), I'll connect with you via email to answer any questions you asked. From there, (option 1) we can just jump right in if you're ready to get started with either my basic or advanced quiz package!
Otherwise (if you pick option 2), we can set up a time to talk over the phone or via video chat. We'll discuss quizzes, where your business is currently, and how you want to grow! If we seem like a good fit, I'll share more about the quiz creation packages I offer. You'll confirm what options you want and let me know you want to get started!
And now that we're working together . . .
I'll send over a contract for you to review and sign, just so everything is clear. I'll then send you an invoice for the amount we agreed upon. I charge in advance for my basic and advanced packages, but add-on items can be charged later if they are not part of the initial quiz build.
And then the fun begins! I'll reach out to you to set up a time for our brainstorming session and then connect you to my client portal where we can easily share files and communicate as needed throughout the quiz building process. (Don't worry, it can all go via email as well!)
While working on the project, I'll connect with you if I need any further information (for example, quiz approval and narrowing down questions to your ideal choices), and you can feel free to contact me with any questions you have along the way. I will connect with you regularly to answer those questions and give updates about the project.
Don't say it's over . . .
I'll get your final approval for the quiz and any additional deliverables and will welcome any final feedback you have for me! I'll monitor the quiz for the first month it is running and make any minor edits as you request them. If you would like major edits or continued monthly monitoring and strategy advice for your quiz funnel, you can let me know and we can continue working together for a small monthly fee.
If you're looking for an amazing way to get traffic to your quiz, I highly recommend Pinterest! I have been a Pinterest manager for 2 1/2 years, and it is the best platform I've found for getting truly interested leads to websites. Quizzes and Pinterest go together like milk and cookies! I offer both Pinterest management for organic traffic and Pinterest ad support for paid traffic – or you can do both! Just let me know that you are interested anytime during your quiz creation project.
What are you waiting for? Let's get started building your quiz so you can grow your email list!
Oh my gosh, quizzes have been working like gangbusters for me. I'm so glad that I did Katie's masterclass and that I've taken her other courses. I'm basically gonna do everything she puts out as long as I have the time for it because it is working so well!
. . . best case scenario, you walk
away with hundreds of thousands
of leads like I did.
Hi! I'm Katie Hart, and I've loved quizzes as long as I can remember! I'll admit there were more than a few quiz results posted on my MySpace page 15 years ago, and I was fascinated by the structure behind them. In addition to quiz strategy, I bring nearly two decades' worth of personality study (Myers-Briggs, Enneagram, and more) to help you get to know potential clients and customers at a deeper level through your quiz. Let me show you how I can amplify your business using quizzes!
My passions include travel, history, and all things geeky! I thrive on research and design and I love helping businesses grow by customizing their funnel strategy and building irresistable quizzes that their audience can't help but share!