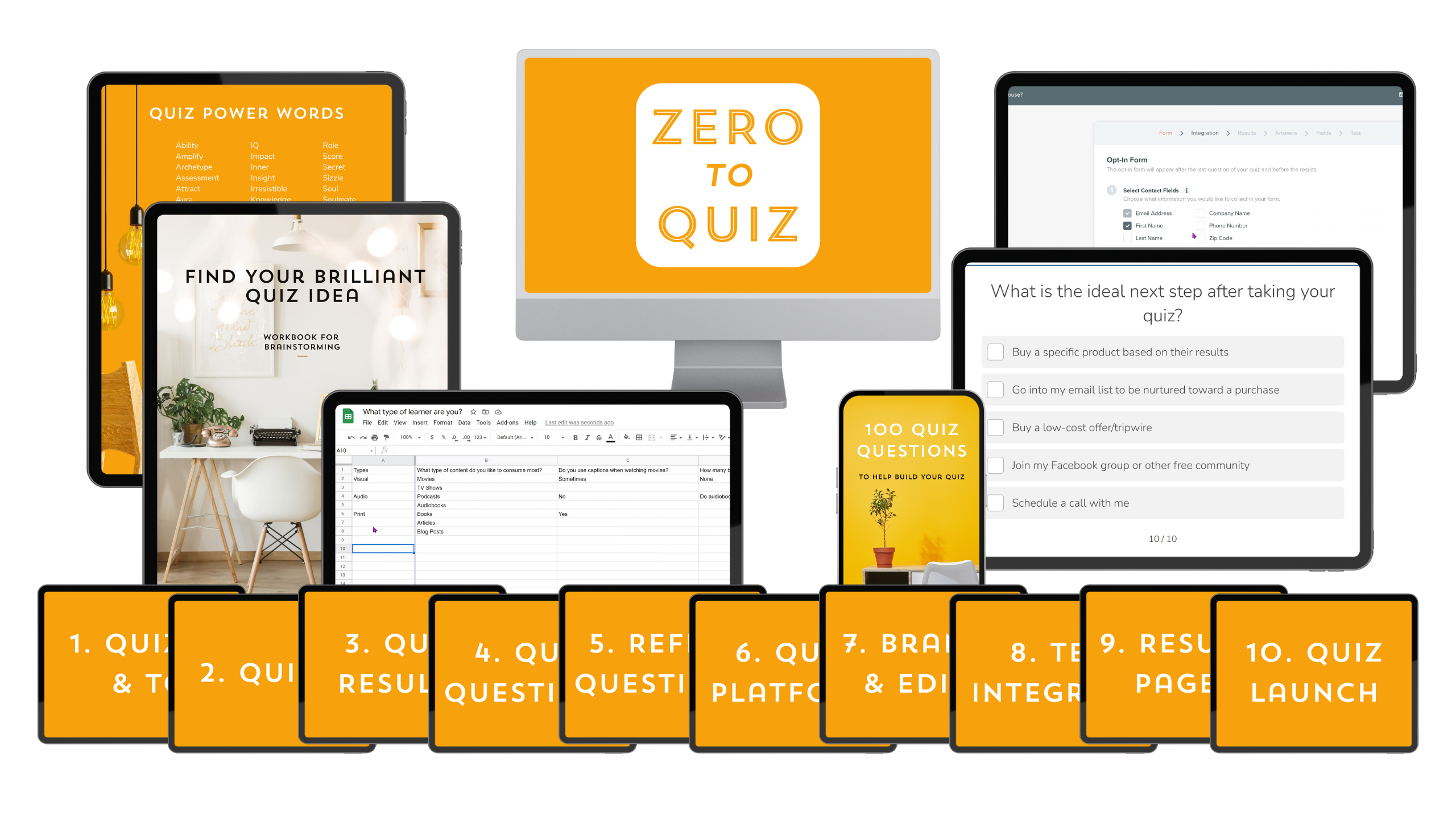 It's time to stop putting off building a quiz for your business.
You've heard all of the benefits of having a quiz – it's a fun, interactive, and insanely useful lead magnet. But you keep delaying the process.
It seems so complicated.
There's so much tech to figure out.
And the biggest – What would I even build a quiz about?
Let's take away the overwhelm. With this course, you'll walk away with a beautiful custom quiz that fits your business perfectly and brings you new leads on autopilot!

Your new quiz starts here
Maybe you've tried to build a quiz on your own before. You:
Didn't know where to start
Followed other's suggestions (and just got more confused)
Did some research and had no idea which platform to use
Maybe even built a quiz and it was just – blah
Goodbye to overwhelm
Zero to Quiz is a step-by-step program with 10 comprehensive modules to let you build your quiz at your own pace.
Essential Training
Get exactly what you need to build your quiz 
Action Steps
Every module has action steps to get your quiz built
Support
Get your questions answered in the community
Finished Quiz
End the program with a fully-completed quiz
And that's not all . . .
By the end of Zero to Quiz, you'll have your amazing finished quiz! But the support doesn't stop there.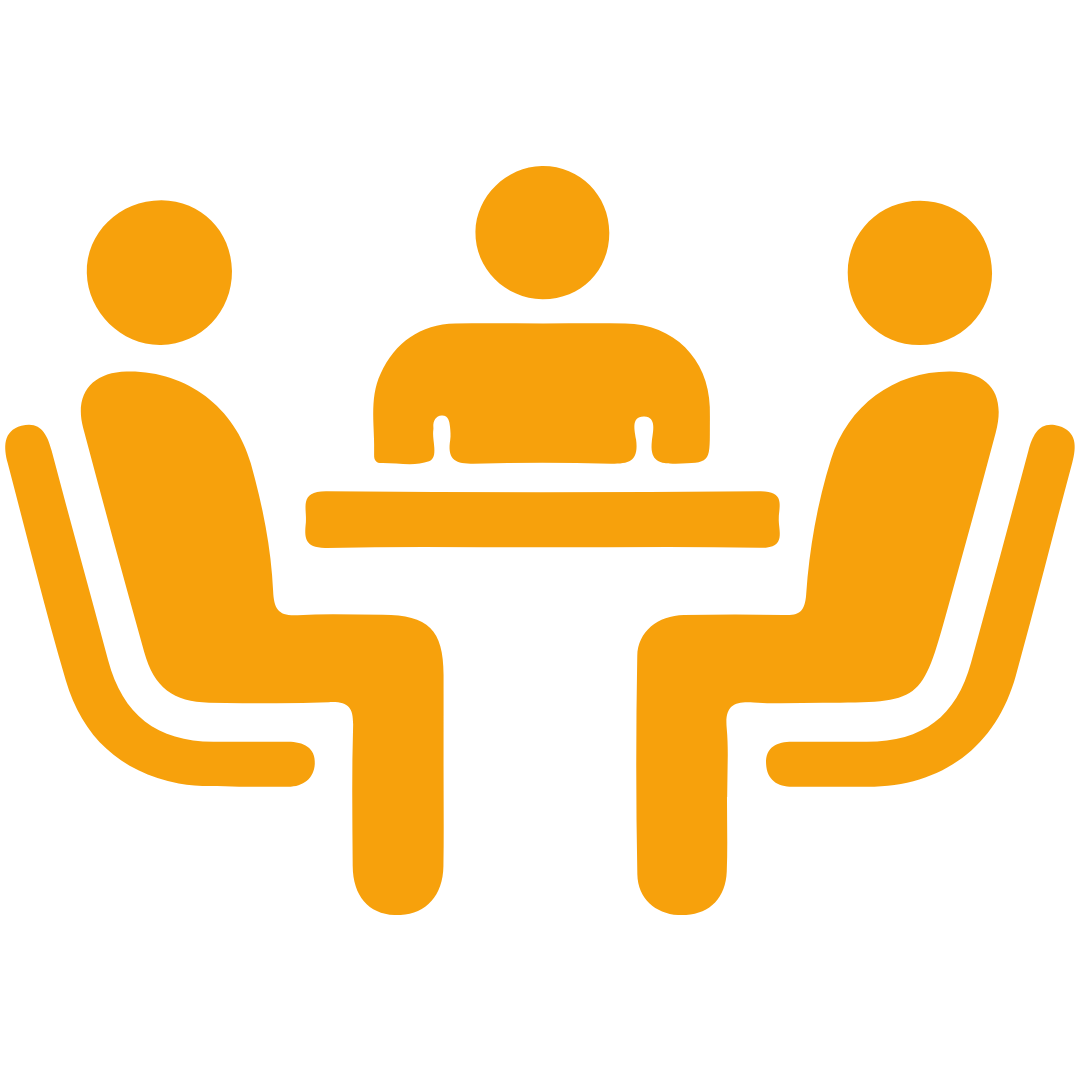 Community Access (value $297)
You get indefinite access to the student community, where you can ask me questions directly and get feedback from other students. You'll also be able to join live Q&As, build networking partnerships, and show off your finished quiz!
Lifetime Access & Updates (value $497)
There's no rush to finish your quiz – you have lifetime access to the program as long as it exists and all updates I make to it. If I change course platforms, I will email you with updated access. And if I ever shut the program down, I'll provide a link for you to download all content.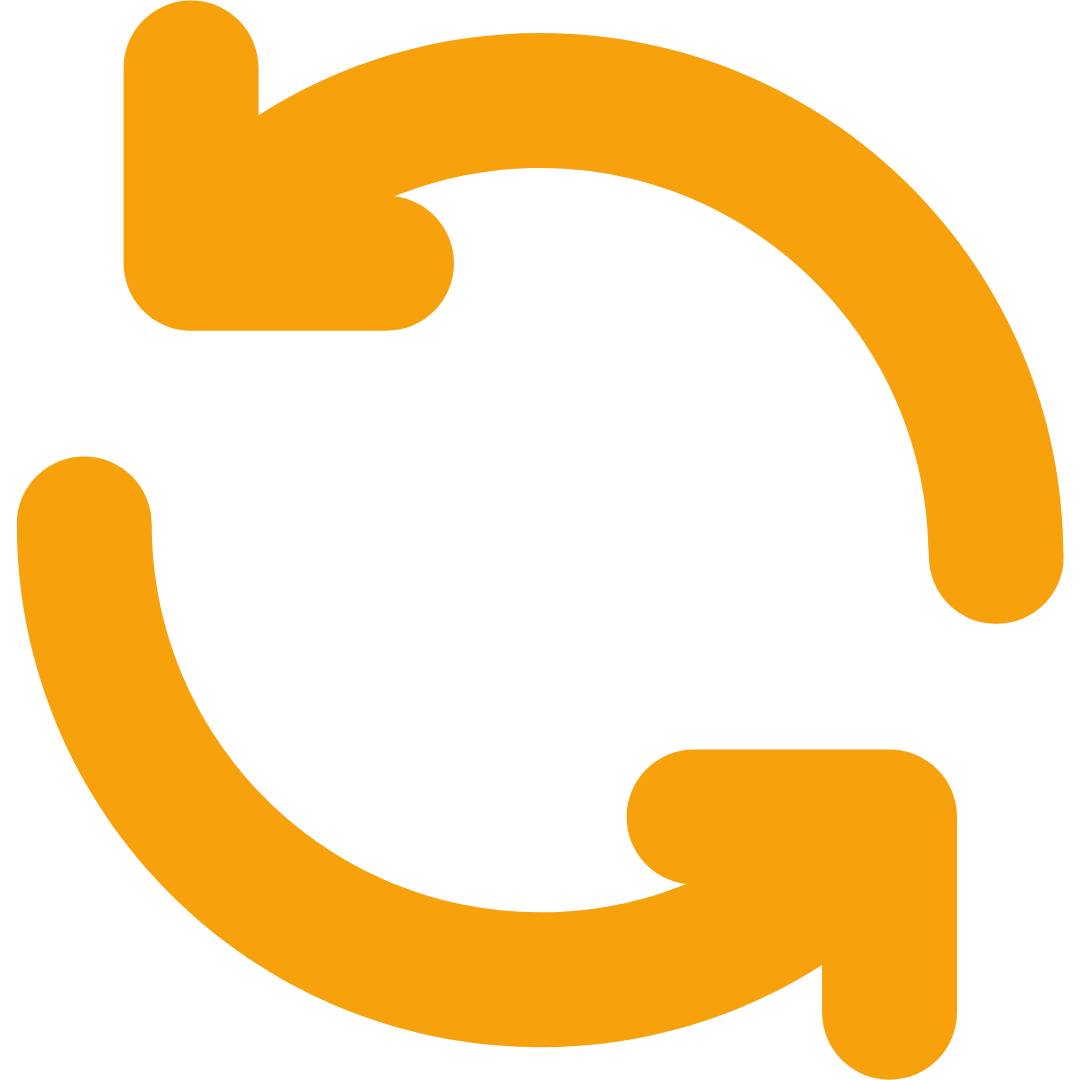 New Quiz Platform Tutorials (value $197)
Although Zero to Quiz focuses on strategy, tech is also a big part of quiz creation. As new quiz platforms are created and become popular, I plan to update this course with tech walkthroughs of additional platforms I recommend.
Why should I build a quiz for my business anyway?
An extremely effective lead magnet
Fun
Interactive
Higher conversion rates (often 2-3x)
Lower ad costs
Insights into your email subscribers
Stronger connection with new subscribers
Quizzes make your business:
More effective
More profitable
Unforgettable
What to expect in Zero to Quiz:
Short training modules covering quiz strategy and ALL the tech
Action steps for each module
Private community for support and inspiration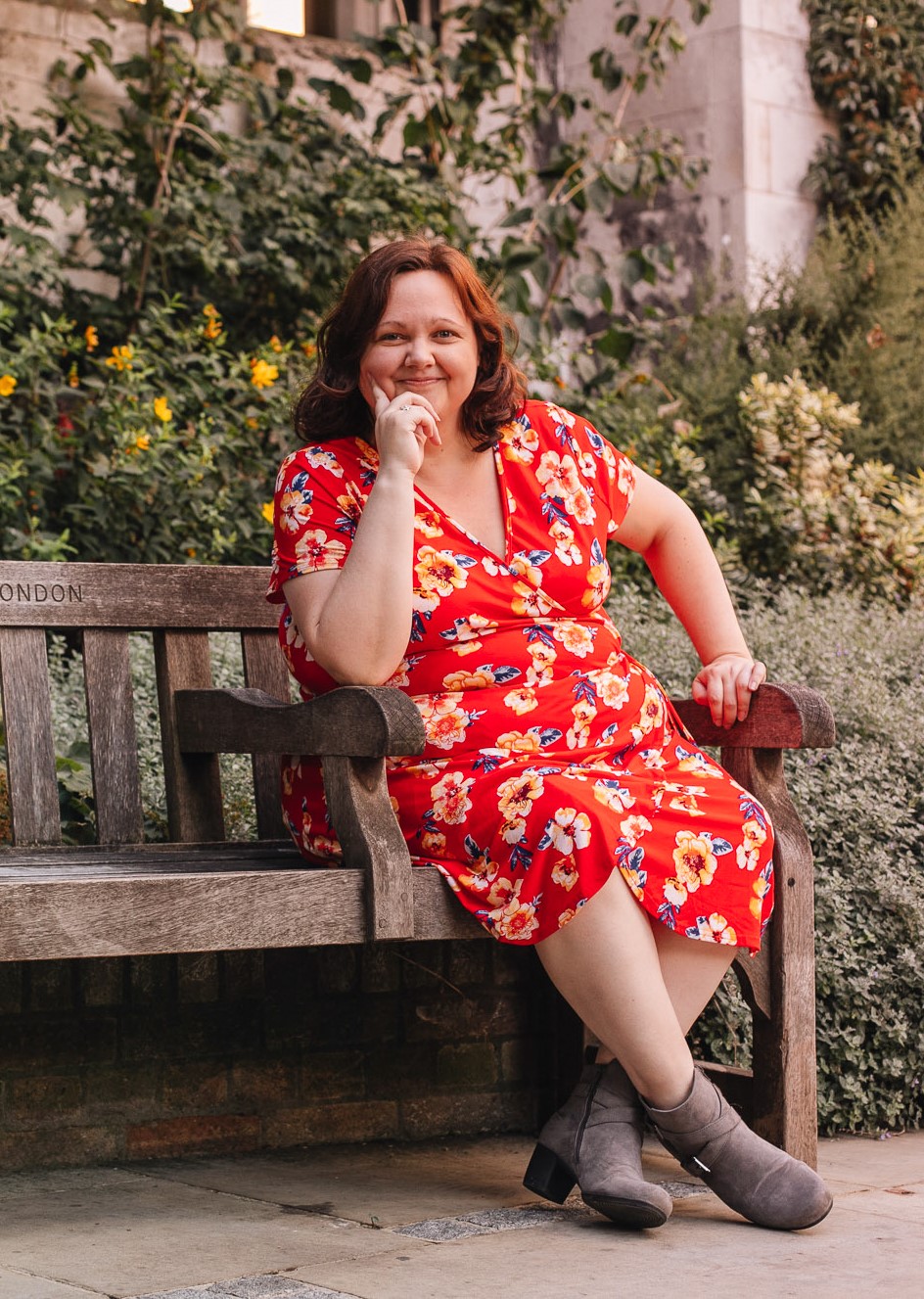 Hi! I'm Katie Hart, a quiz creation specialist and the mind behind Zero to Quiz. This program has helped other entrepreneurs build unique and transformative quizzes, so I know I'll be able to help you design an amazing quiz for your business.
I've been analyzing quizzes for more than a decade (in part due to my love of personality types) and building quizzes for 3 years. I love helping business owners dig deep into the psychology of their potential customers to create quizzes that are not only valuable but fun to take and irresistibly sharable.
I decided to create a quiz months ago, signed up for the software, and only then realised how much strategy and backend work is involved. The project stalled. I procrastinated. When I found out about Katie's service I hired her right away – and 2 weeks later, my quiz was ready to go live! It's fun, it relates to my brand, and my email list is growing!! Katie knows what she's doing and is my go to person for quizzes! Highly recommended.
Don't keep waiting to finally create your list-building quiz. Sign up now!
Zero To Quiz
Entire Step-by-Step Quiz Building Course
Quiz Strategy Training
Quiz Tech Walkthroughs
Private Heartbeat Community
Lifetime Updates
Zero to Quiz – Entire Self-Study Course with Future Updates
Value $1988
Yours for just:
$247
I absolutely loved being in Zero to Quiz. My quiz idea was something I knew I wanted to do, but needed the motivation + help to actually get it done.
Honestly, there's so much more to building a quiz than I ever even imagined. The parts that I thought would be easy (writing questions) were actually so much more involved + challenging than I expected. I'm SO glad I had Katie + the FB group to bounce ideas off of and get feedback.
My quiz is going to be taken by all sorts of people – not just ones who think like me – so getting other's perspectives was super valuable and my quiz was better because of it!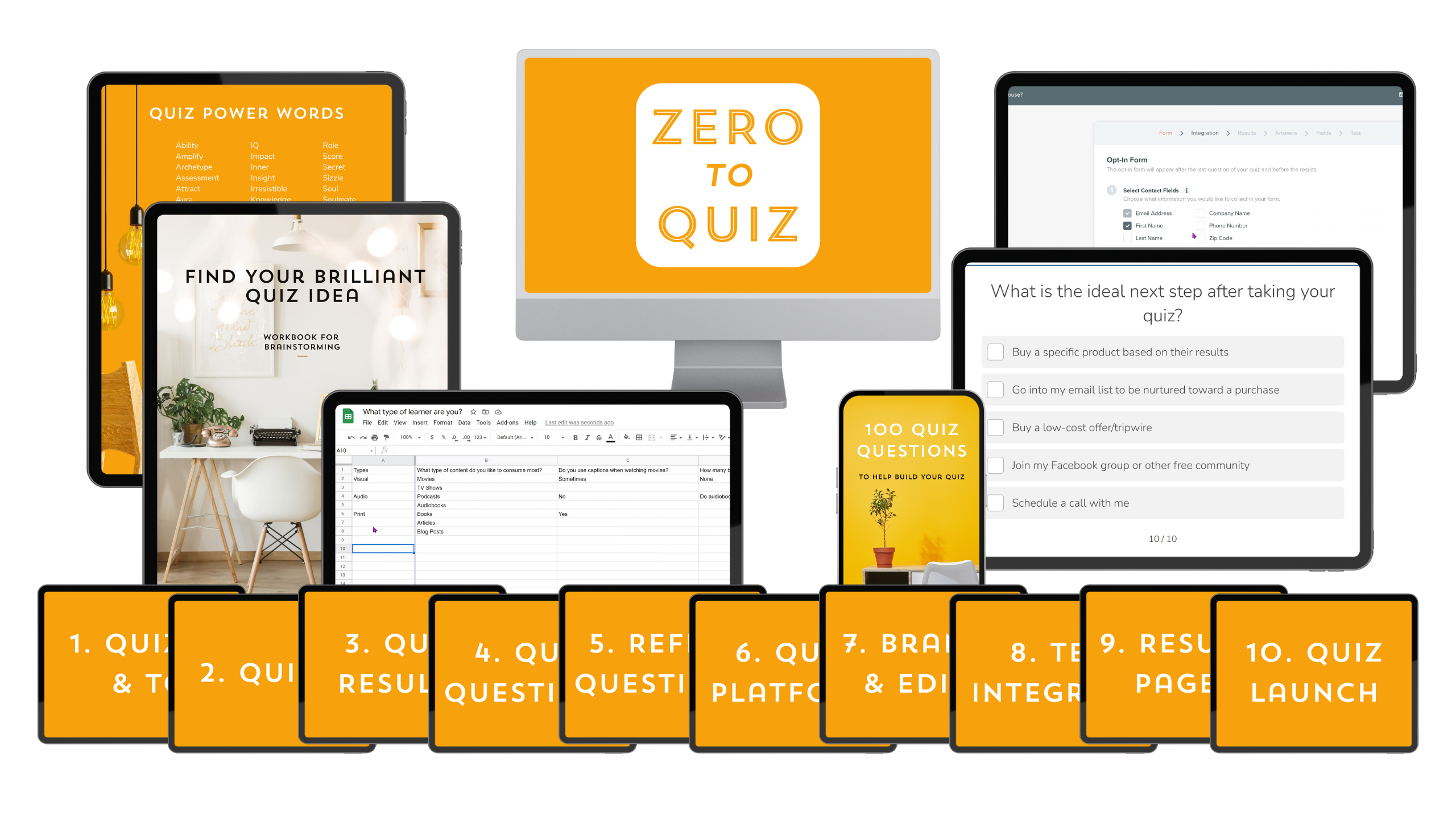 What's Included?
Step-by-Step Approach to Get Your Quiz Built
10 Modules of Video, Audio, and Text Training
Action Steps for Each Module
Helpful PDFs
Interactive Community for Feedback throughout the Quiz Building Process
Personalized Support from Katie within the Community Platform (Heartbeat)
Strategy Training
Tech Training
Lifetime Access
Frequently Asked Questions
Who is Zero to Quiz for?
Zero to Quiz is designed for entrepreneurs of any level who have never built a quiz before or have tried and haven't been happy with the results. While the focus is on using a quiz to grow your email list, we'll also cover other ways of using quizzes such as selling tripwires/easy yes offers and directing people to affiliate offers.
Do I get access to the whole program right away or is it dripped out gradually?
As soon as you purchase, you'll get access to the entire program!
How long do I get access to Zero to Quiz?
How does forever sound? Or at least as long as the internet exists in something resembling its current form. My community/course platform hosts all of the training content and future updates. This will also be where we'll interact as you build your quiz. The community should be around indefinitely (and you'll be able to be a part as long as you follow the community guidelines), but may be moved to a different platform at some point.
How much will a quiz platform cost me?
I use and teach how to use Interact, which has a 14-day free trial. You can use their free trial to build and test your quiz. Their lowest paid plan is $39/month or $324/year ($27/month paid annually). It includes collecting 60,000 emails a year and limited analytics.
I share about several other options within the program. Most are at a similar or higher price point. One past good lower-cost option (Thrive Quiz Builder) is now only available with Thrive Suite for $228/year.
If you're a bit more techy, there's Smart Quiz Builder, a WordPress plugin that can have the quiz embedded on non-WP sites. At the moment, it costs $69 for a one-site license with a year of updates (or $399 for lifetime updates to an unlimited site license).
Can my team member/partner/VA join as well?
Absolutely! While only one account can be created to access the lifetime updates, you are free to allow a team member to access your account to view it.
Can I get a refund?
Unfortunately, as Zero to Quiz is a digital course that you receive full access to as soon as you purchase, I can't offer refunds. The testimonials on this page show that I know quizzes and can help you build a great one. However, if you are struggling with any aspect of building your quiz, just ask for help in the community! And I will be continuing to grow and expand this course based on your comments and questions.
Can I purchase with PayPal?
Yes! You can checkout via Stripe or  PayPal. I know many of my students prefer using PayPal, so I wanted to make things as easy as possible for you to sign up!
Wow, Katie Hart, this is GREAT! Thank you so very much for taking so much time and answering my post in such detail. Reading your answer/suggestions helps me tremendously! I totally understand what you are getting at and why. So glad I enrolled in your course!
Katie knows her stuff!!
I have not finished the tool kit, but everything I read, looked over and used has helped me and my business so much in just the short amount of time that I have been using it.
I can't wait to finish it and learn more and use more of it in my business.