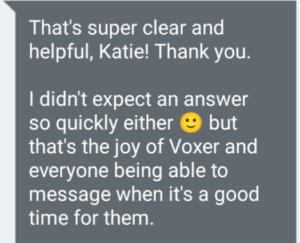 Get Voxer support in 2024 with Voxer Weeks you can schedule anytime during the year (holiday weeks and occasional travel weeks excluded).
5 days of 1-on-1 Voxer access to Katie Hart included in every Week, valued at $1000 (you're saving 80%).
These weeks are perfect for intensive projects, business planning, jumpstarting a new business idea, and more. Stock up now for support throughout the year.
Purchase 4 Voxer Weeks to use in 2024 and get one free! (Total savings: $4200 US.)
Schedule Voxer Weeks 2 weeks or more in advance, subject to availability. Generally Voxer Weeks are Monday-Friday, but please inquire if weekend hours would suit your business better.
Rescheduling permitted 7 days before start of Voxer Week, 48 hours before in case of family emergencies or illness.
One Month of Voxer Support (4 weeks, 20 days) may also be purchased, but weeks must be taken consecutively, and this does not include the bonus 5th week. Only may be scheduled January-October to avoid holiday season.
All prices in USD.